A responsive webshop custom built for Frietjes Online.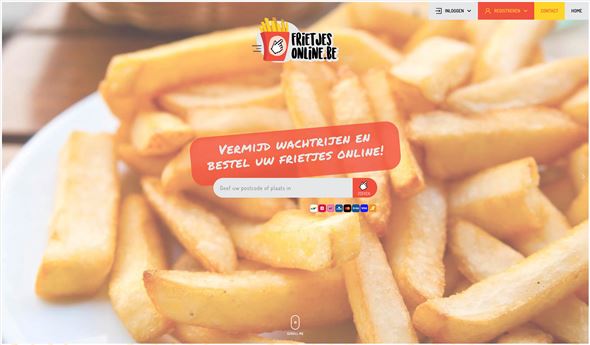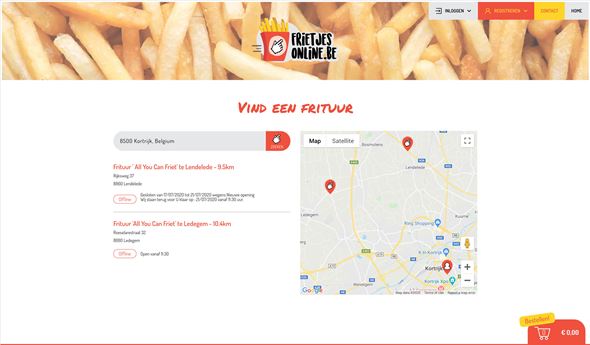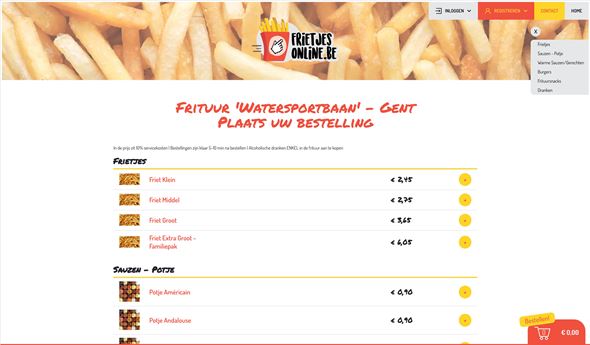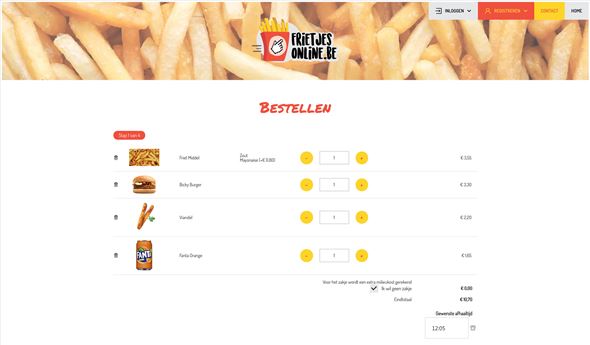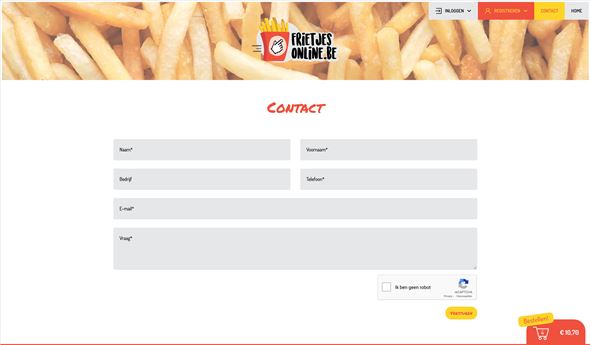 Web-based application
With the help of IDcreation, Frietjesonline built an innovative online marketplace that enables fast food ordering from independent vendors anywhere in Belgium.
The client brief called for the creation of a user-friendly web-based application where consumers could order fries, burgers and other types of fast food from local shops. The interface had to be easy enough for individual small business vendors to register their shops and manage product assortment independently.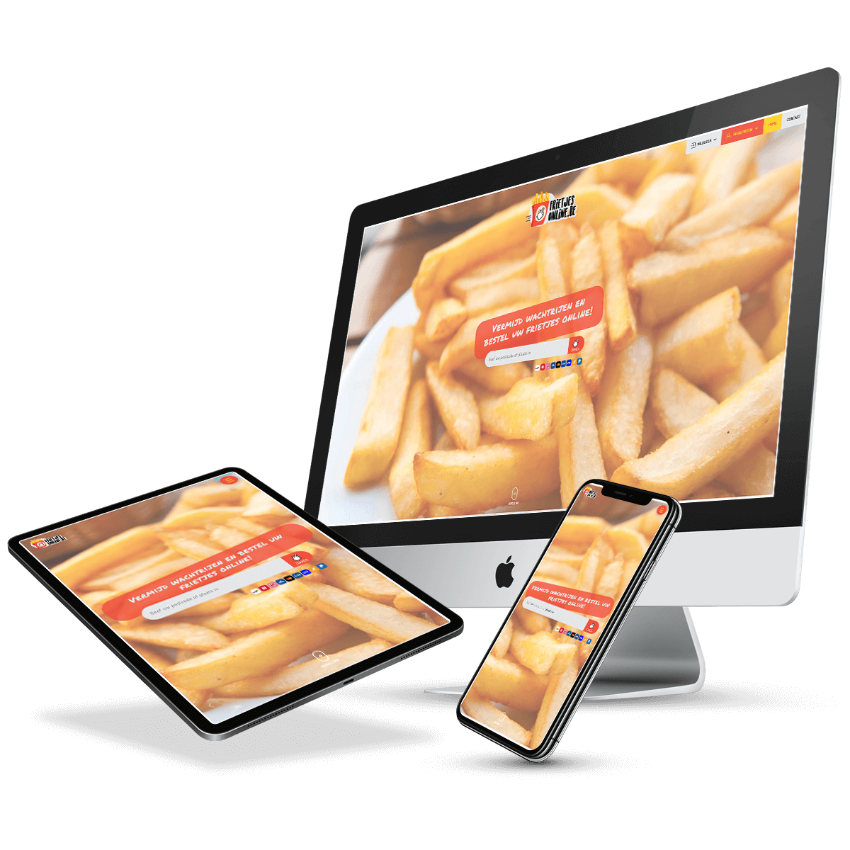 Solution
Integration of cloud-printing solution and text message service

Hungry consumers can search for nearby fast food shops by postal code or by allowing access to their location. The general location is then determined by Google Geocoding, while device location is based on the HTML5 Geolocation API.

Orders can be paid for online (handled by secure payment processing service Mollie) or in-shop.

Once an order is placed for a specific fast food shop, the owner or manager of the shop receives it via email and a copy containing a unique QR code is printed by CloudPRNT (a cloud-printing solution).

If the fast food shop offers delivery in the customer's area (as determined by postal code), they will be able to choose this option when checking out.

When the order is close to being ready, the shop manager scans the QR code on the printed order, which sends a text message to the customer (service provided by Message Bird), notifying them their order is ready to collect in-store (unless home delivery was selected).
Solution Features
Fast-food shops at the Frietjesonline.be marketplace

Any fast food shop ('frituur') owner in Belgium can create a profile and add their shop to the marketplace.
Through the CMS, they can manage a wide range of settings, including:

The shop's name, address, phone, opening hours

Set their shop's profile to online or offline at any time

The shop owner's data: name, email, address, payment & invoicing options, commission

Export the list of shop owners, export order and revenue history

The MAC address of their CloudPRNT device (optional)

Their shop's product assortment, including pictures, descriptions, and prices

Sort products according to categories and desired order of appearance

Track and manage orders online

Set the availability of food delivery (if applicable), the minimum order amount for delivery and for free delivery, the delivery fee (based on postal code)

Scan completed orders with a webcam scanner, using QR codes

Download monthly invoices in PDF or XML format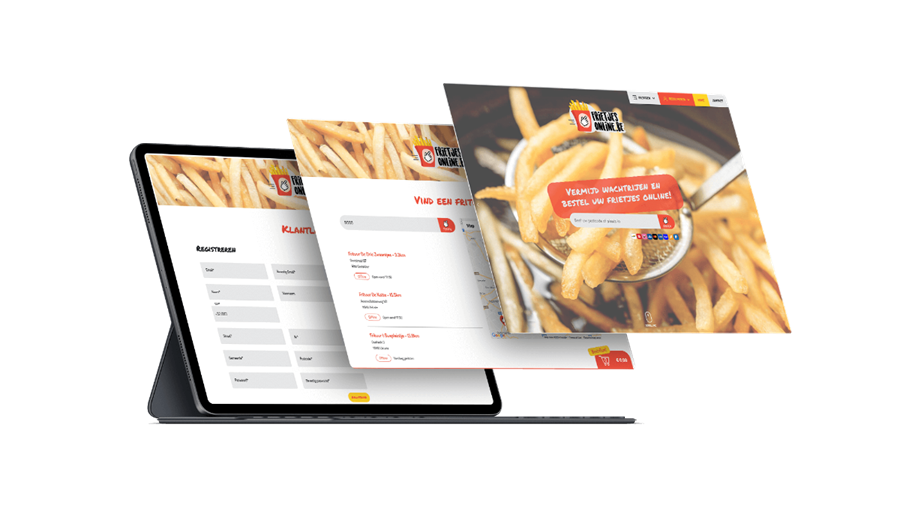 Customer Benefits
Food platform connected to an invoice platform

The Frietjesonline portal makes it quick and easy to order lunch, dinner or snacks from any corner of Belgium, without leaving the comfort of one's own home – the way fast food is supposed to be.
Thanks to a task scheduler, service invoices are automatically generated for all active fast food shops through the platform. At the same time, bank transfer documents are generated (in Isabel xml format), facilitating the payment of Frietjesonline invoices.
This makes doing business seamless and effortless for the small business food shops listed on the marketplace. All they need to focus on is completing orders – the web platform built by IDcreation takes care of the rest.
Start your own project?
IDcreation is a leading web solutions company with locations in Belgium and the Netherlands, proudly serving the Benelux and France regions. Interested in learning more about how data from your ERP system can be integrated into your website or web shop? Get in touch with us for a free consultation.