Webshop with Exact Globe link for Remedus.


-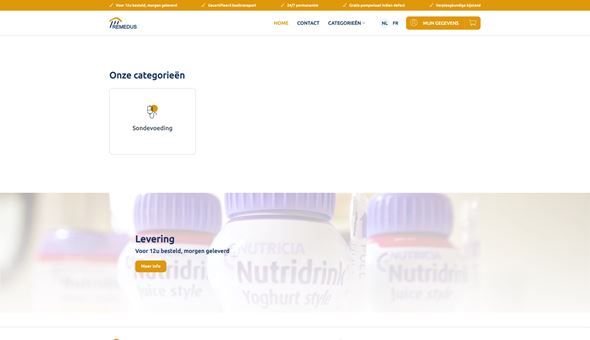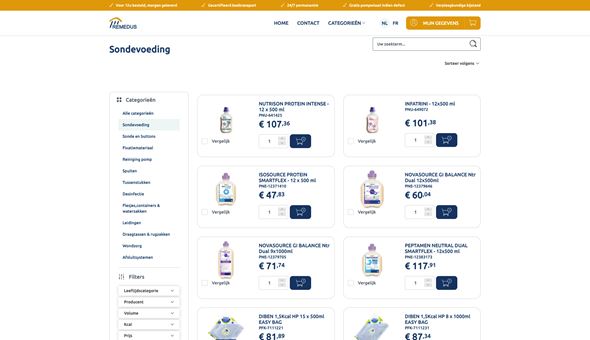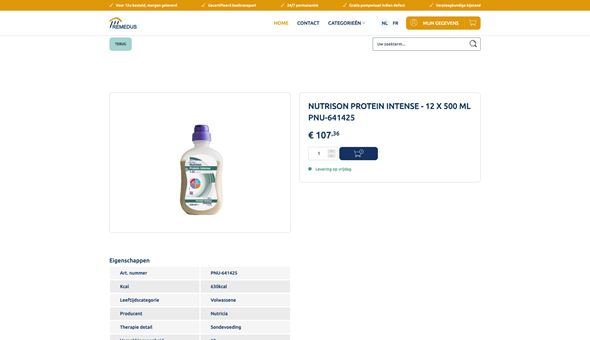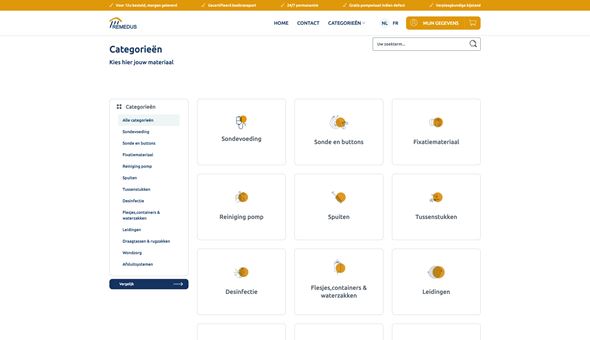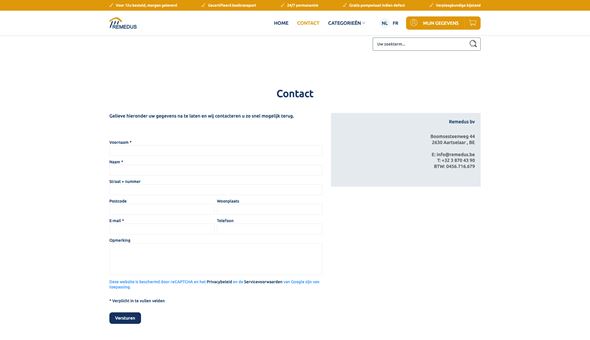 Customer Challenge | Remedus
Remedus (BV) is a Belgian provider of high-quality, specialized medical equipment for treating a variety of conditions at patients' homes. The company rents out and delivers the needed equipment to patients' homes, helping them set it up so they can independently operate it for the duration of their treatments. In addition to medical equipment rental and delivery, Remedus offers a service for transitioning patients from the hospital to their homes, as well as 24x7 patient phone assistance.
To expand their supplies and equipment offerings and improve their quality of service, Remedus needed a new web solution that could accommodate their full portfolio of products and services, in addition to letting patients place orders online.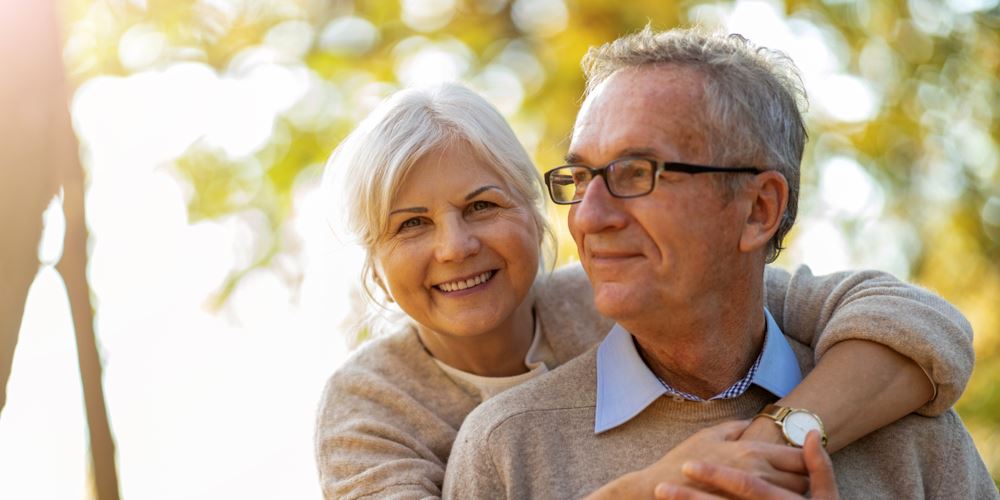 Solution
To meet the needs of Remedus and their patients, IDcreation created a
full-featured, professional web shop
solution for them, available in both Dutch and French.
Solution Features
Key features of the custom Remedus web shop include:
A full-featured, custom CMS that lets Remedus manage all aspects of their web shop
The ability to group equipment and supplies into categories, with two levels of subcategories possible
A search and filter function, based on product name and price
The ability to add products to a list of 'favorites'
A simultaneous comparison between different products
The calculation of shipping costs upon concluding an order
The ability to add related items as product recommendations: this is done in the CMS vs. an ERP system export
Through the web shop's password-protected patient portal, Remedus' patients have the option to:
View their product order history
Access special pricing and discounts, specific to their profile
Choose an alternative delivery date for their orders
View a summary of their equipment rentals and the associated monthly fees
Download invoices

The solution's backend features a seamless, third-party integration with Remedus' ERP system, Exact Globe, via web services, which allows them to:
Import product information from Exact Globe
Export web shop orders to Exact Globe
Import customer data from the CMS into Exact Globe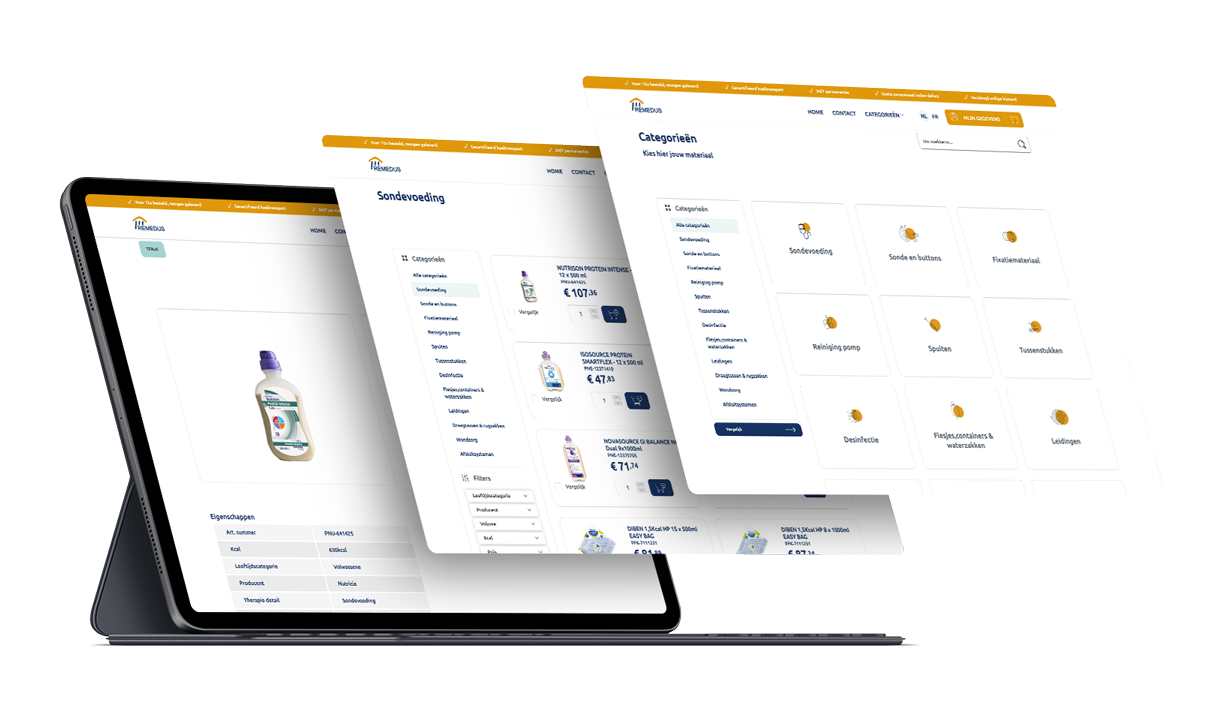 Customer Benefits
The ease-of-use and mobile responsiveness of Remedus' new web platform allows their prospects and customers to easily access all functionality, review the portfolio of products and services, and request those they may need, at any given time.
The integration with Remedus' ERP system offers the web team unprecedented convenience, allowing the bulk of the manual tasks to be seamlessly handled by the solution. This saves the Remedus team time, hassle, and resources, allowing them to focus on more important, customer-centric tasks.
START YOUR OWN PROJECT?
IDcreation is a leading web solutions developer and integrator with locations in Belgium and the Netherlands, proudly serving the Benelux and France regions.