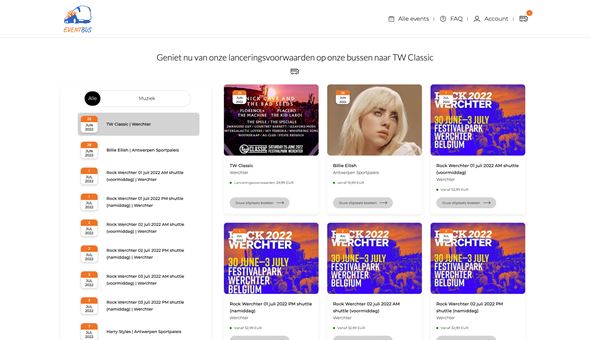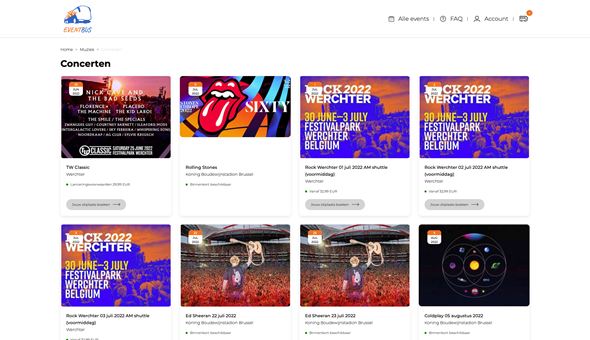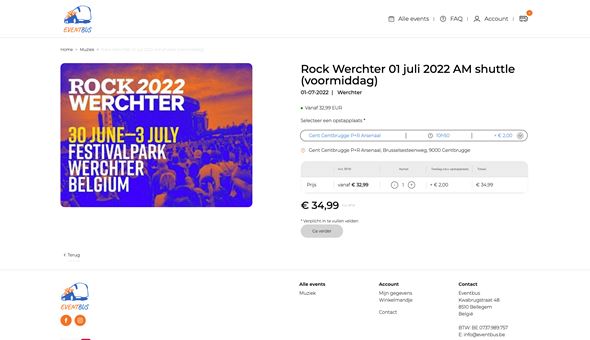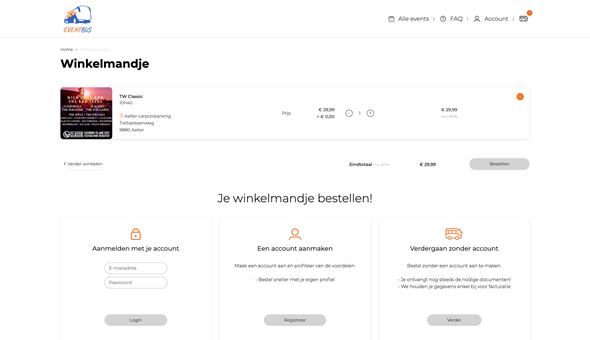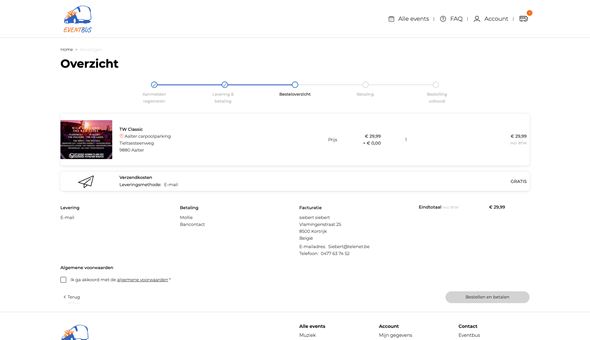 Customer Challenge | Eventbus

Eventbus is an innovative, online booking service for group bus rides to events all around Belgium.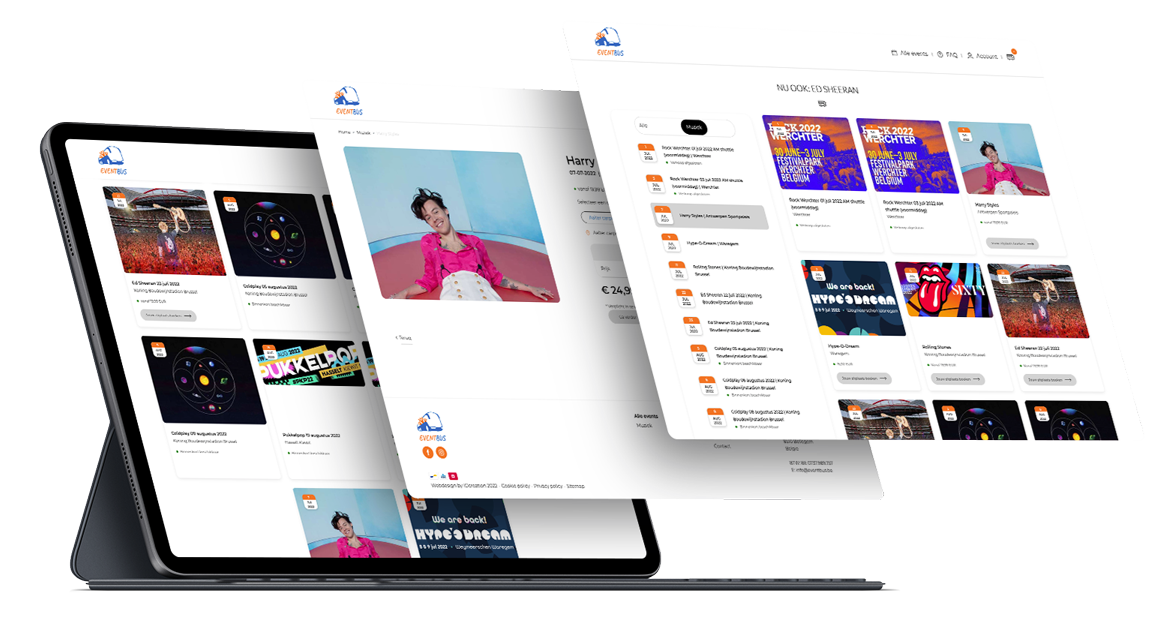 Solution
The goal of Eventbus was to provide an easy-to-browse and easy-to-use web portal, where visitors can find bus rides to various events around the country and book them on their phones or PCs. To meet these needs, IDcreation built a custom, responsive, web-ticketing solution with a user-friendly content management system attached to it.
Solution Features
By visiting the Eventbus web portal, bus ride seekers can conveniently browse through the entire list of events with available bus rides, which are taking place in Belgium. Events include music concerts, festivals, and more. Whether the event is taking place in Brussels, Antwerp, Mechelen, or a smaller town, Eventbus has a bus ride available to book. This makes it very convenient and safe for event goers to get to their events on time, without worrying about drinking and driving or catching delayed, crowded trains.
Bus ride prices are fully transparent and listed on the website, under each event. What's more, Eventbus customers can select the pickup point of their choice, with several locations available for each city and event. They can book rides with or without registering a profile. If they register, their login credentials are e-mailed to them and can be reused for future bookings. Registered visitors can also access their accounts on eventbus.be at any time.

In summary, Eventbus web visitors can do all this through the custom web portal built by IDcreation:
Browse the list of events with bus rides available for booking by date, viewing the price for each ride
Add bus tickets for one or more events to their shopping cart before checking out
Book one or more seats on each event bus and choose a pick-up point
Pay for their booking online by Bancontact, KBC/CBC, or Belfius pay buttons
Receive an e-mail booking confirmation to use as a ticket on the bus
Register for an account and access it by logging in
Obtain more information about the bus service by consulting the FAQ section
Get in touch with the Eventbus team via a dedicated contact form.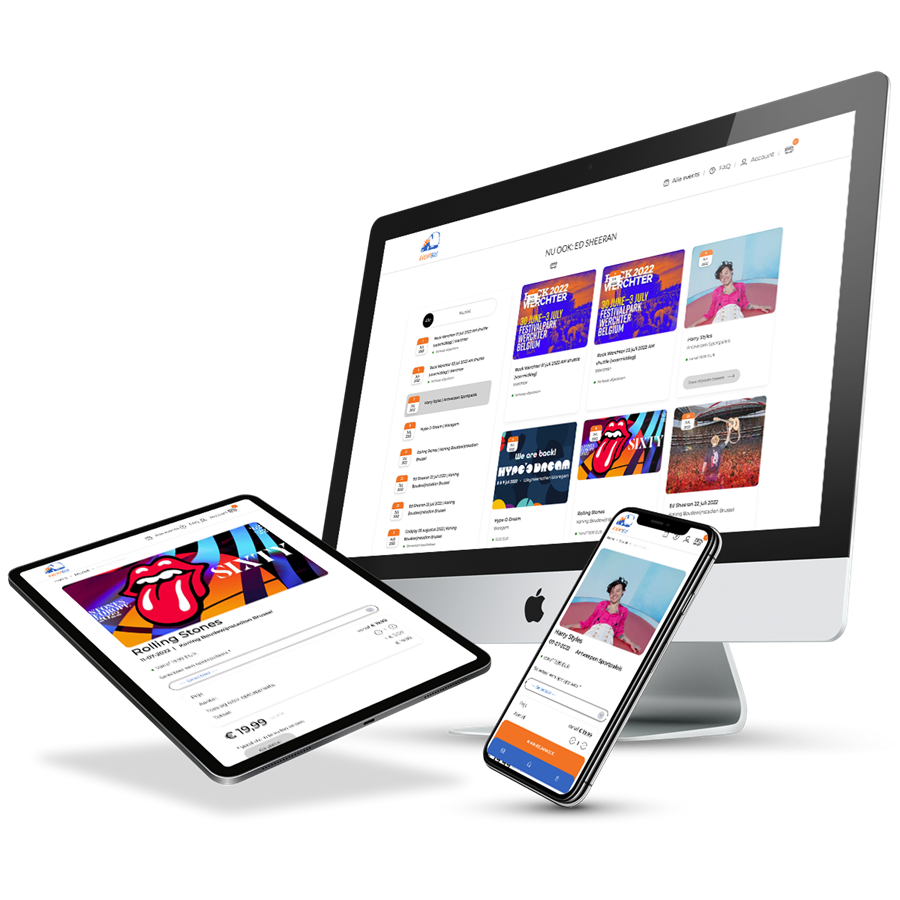 Customer Benefits
IDcreation made it easy for Eventbus staff to manage their bus ride services and website via the custom CMS that comes with the web solution, which allows them to:
Add, modify, and remove an unlimited number of events with available bus rides
Set the number of seats available on the bus for each event
Set different pricing for children's and adults' bus seats
Add several different pick-up points on the bus route for each event
Add, modify, and remove different event categories, such as sport, culture, fun, music, children's events, etc. (a single event can belong to more than one category)
Export the passenger list and chosen pick-up point for each passenger
View and export the list of customer orders by date range
Manage and troubleshoot customer profiles
Manage the Frequently Asked Questions (FAQ) section
As a result of the robust, ride-booking service built by IDcreation, Eventbus customers can easily book transportation to events of their choice, while staff can efficiently and effortlessly manage all web content.
Start your own project?
IDcreation is a leading web solutions developer and integrator with locations in Belgium and the Netherlands, proudly serving the Benelux and France regions.